By day or by night – whatever your blend, we invite you to discover it here.
---
Stonewise Mead and Cider.
If crisp draft meads and refreshing ciders are more your style, visit our family friendly taproom at Stonewise Mead and Cider where you will enjoy a variety of seasonal flavors. Enjoy honey-buzzing meads and modern ciders by the glass or take a flight to get the most out of this tasting experience.
Learn More
Directions
---
Artesian Cellars
Relax in this cozy tasting room while sipping and learning about a variety of wines including Cabernet Sauvignon, Ruby Cabernet, Barbera, Merlot, Zinfandel, Syrah, Petite Syrah, Chardonnay, Viognier, and Marsanne.
Learn More
Directions
---
Sanders Family Winery
Nestled on the southern side of Pahrump, Sanders Winery offers stunning panoramic mountain views and incredibly delicious wines. Bordered by the beautiful Spring Mountains, the winery property is a prime location to produce bold and flavorful wines while being transported to another place and time.
For a schedule of concerts, cookouts and other events, contact the Sanders Family Winery at 775.727.1776 or [email protected].
Learn More
Directions
---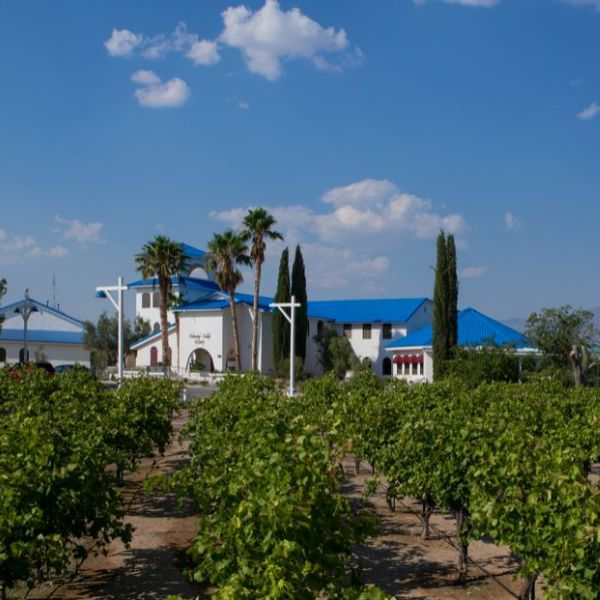 Pahrump Valley Winery
At Nevada's largest wine producer, Pahrump Valley Winery you can take a guided tour, stop for a picnic, and sip their award-winning wines at this iconic staple. Planning a wedding, family reunion or day trip? Celebrate any occasion and experience the elegant atmosphere, lovely views and culinary perfection at Symphony's found inside the Pahrump Valley Vineyards.
Warm weather, mountain backdrops, live music and delightful tastes – what more could you want? We hope to see you at the annual Grape Stomp each October. For a schedule of events, contact the Pahrump Valley Winery at 775.751.7800 or [email protected].
Learn More
Directions
---
Desert Cane Distillery
Family owned and operated Rum distillery.  Their hand distilled rums are uniquely made from sugar cane grown on their own farm in Pahrump.  The tasting room is a fun and openly social place to try their products.  They even offer custom cocktails with their rum that you're sure to love.
For More Information, contact Desert Cane at 702.334.9071.
Learn More
Directions
---
---